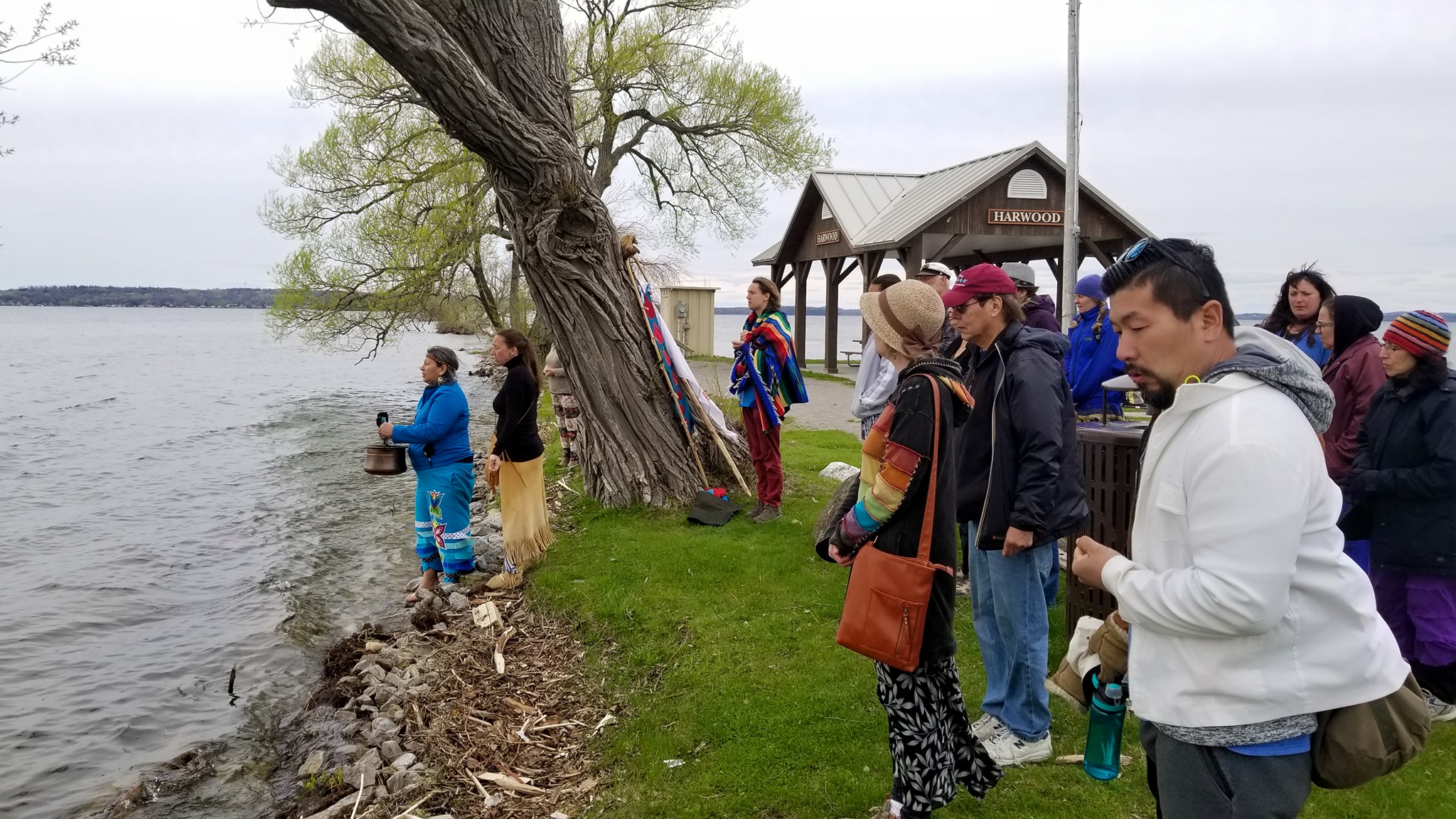 Sacred Water Circle
---
Vision
---
Inspired by traditional Indigenous teaching and leading with hope and spiritual courage, the Sacred Water Circle sees a restored relationship between human communities and water.
Mission Statement
---
Sacred Water Circle seeks to create spiritually-based dialogue around environmental issues, and to motivate communities and governments to act to set policy that will protect our water, by leading with prayer and walking together.
10 May 2019
The 10th Annual Water Walk in the Kawarthas took place on Mother's Day Weekend, May 10, 11 & 12, 2019.
A dedicated group of water walkers walked all around Rice Lake. In total, we walked over 97 kms and took over 127,000 footsteps for nibi. Every step is a prayer.
Nibi Song
---
This song was written by Doreen Day at the request of her grandson. She attended a conference about the water in which the internationally known speaker, Dr. Masaru Emoto said,
"the very least we should do every day, is to speak to the water"
---
Here is the Song:
Water, we love you.
We thank you.
We respect you.
Nibi gee zaa gay a go
Gee Miigwech a wayn ni ma go
Gee zhaa way ni ma go
---
Original song can be found at the following web address: http://www.motherearthwaterwalk.com
Nibi Song
Land Acknowledgment
"We respectfully acknowledge that Sacred Water Circle gathers on the Treaty 20 Michi Saagiig territory and in the traditional territory of the Michi Saagiig and Chippewa Nations, collectively known as the Williams Treaties First Nations, which include: Curve Lake, Hiawatha, Alderville, Scugog Island, Rama, Beausoleil, and Georgina Island First Nations. Sacred Water Circle respectfully acknowledges that the Williams Treaties First Nations are the stewards and caretakers of these lands and waters in perpetuity, and that they continue to maintain this responsibility to ensure their health and integrity for generations to come."

Land acknowledgement written by Chief Phyllis Williams of Curve Lake First Nation
For Sacred Water Circle, this acknowledgment is a commitment to building better relations between settlers and Indigenous people who share the waters across Turtle Island. Miigwetch.